The Urban Soul on the Farm dinner is an iconic tradition of the Carolina Jubilee weekend where city meets country.
This unique farm-to-table dinner will serve different culinary styles so we can all celebrate the varying ethnicities of our chefs.
Each chef will introduce themselves while sharing the meaning behind the dish they have created.
Dishes will be served in courses, family-style, at communal tables, which means you get to break bread with people you may not know and have the opportunity to create deep and meaningful conversations. Drinks will be included.
To enjoy a truly diverse culinary experience while supporting our mission to take back our broken food system grab your ticket today!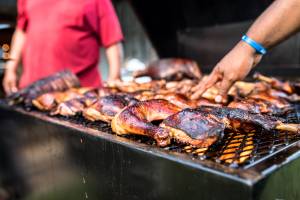 This multi-course dinner is prepared family-style
Presented By:
CHEFS
ANNOUNCING 2023 CHEFS SOON!
MIXOLOGISTS
Justin Hazelton
FULL MENU COMING SOON
The Table is Set.
Come Join Us on The Farm.