The Urban Soul on the Farm dinner is an iconic tradition of the Carolina Jubilee weekend where city meets country.
You will enjoy a true farm-to-table dinner while experiencing different culinary artistic styles through the lens of Black chefs. Each chef will introduce themselves while sharing the meaning behind the dish they have created.
Dishes will be served in courses, family-style, at communal tables which means you get to break bread with people you may not know and have the opportunity to create deep and meaningful conversations. Drinks will be included.
If you want to enjoy a truly fantastic culinary experience while amplifying Black chefs and supporting our mission to take back our broken food system then grab your ticket today!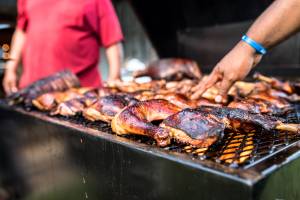 This multi-course dinner is prepared family-style
Presented By:
CHEFS
Ashley Nightengale – Creative Concepts Catering
Chayil Johnson – Community Matters Cafe
Alexander McQueen
Anthony Denning – Another Food Truck
Angel Lunn – Zane Acres Farm
Elena Lundy – Personal Chef
Taylor Worsley – Personal Chef (dessert)
Corey Jones – Maddash Kitchen
Treasure Williams – Personal Chef
Di'Anja Hunter – The Perfect Match
Naomi Knox
MIXOLOGISTS
Justin Hazelton
A special thank you to Chef Naomi Knox for organizing this event.
FULL MENU COMING SOON
The Table is Set.
Come Join Us on The Farm.