Urban Soul on the Farm – Dinner Info Coming Soon!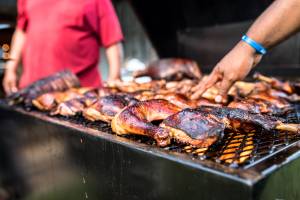 This multi-course dinner is prepared family-style
Presented By:
CHEFS
A special thank you to Chef Naomi Knox for organizing this event.
Ashley Nightengale – Creative Concepts Catering
Chayil Johnson – Community Matters Cafe
Oscar Johnson – JimmyPearls
Darryl Cooper – JimmyPearls
Tiffany Jefferies – Flavor Ministry Catering and Events, LLC
James H Diggs – Personalized Affairs Catering
Elena Lundy – Personal Chef
Taylor Worsley – Personal Chef (dessert)
Treasure Williams – Personal Chef
Di'Anja Hunter – The Perfect Match
Ronnie Millz – The Chef Mills Experience
MIXOLOGISTS
Justin Hazelton
The Table is Set.
Come Join Us on The Farm.