"Through Trane Technologies' Thermo King business, we use our expertise and innovative products to move fresh, healthy food to where it's needed most. Recognizing that transport refrigeration plays a critical role in eliminating food loss and increasing food stability, we launched the We Move Food Program. We Move Food provides support to hunger relief organizations globally through direct grants, special pricing on transport refrigeration products and maintenance, access to training and expertise, and volunteerism. We love supporting local farmers as fresh healthy local food is both a way to mitigate climate change and improve quality of life." 
W. Scott Tew
Vice-President, Sustainability & Managing Director
Center for Energy Efficiency & Sustainability at Trane Technologies
Trane Technologies is proud to host
Urban Soul On The Farm Dinner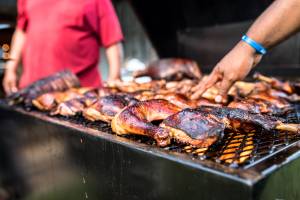 After a year of challenge, change, and resetting, Carolina Farm Trust, through the Carolina Jubilee, is excited to dish out hope – one locally-produced, locally cooked bite at a time. At this year's Urban Soul on the Farm dinner, an iconic tradition of the Carolina Jubilee weekend, CFT is partnering with chefs from all over North Carolina to raise money to help the Jzars, a Black Farmer Family, to purchase their own land.
Join us to enjoy a meal that mother nature would be proud of, all while supporting the Jzar's in the growth of their farming business. Pull up a chair and dine with us on the farm.
About the Jzar Family
"Hi, we are the Jzar family. We are first generation Urban farmers in Charlotte NC. We need your help to purchase land. Our farm business is Deep Roots CPS Farm, and our motto is "deeply rooted in the community". Our mission is to supply healthy organic foods to our communities as well as increase the number of Black and Brown people in the food production space. We understand first hand how important healthy nutritious food is for our health and well being and how the lack of access to this food in our community has had a negative impact on so many of us. We are engaged in the community providing food and education. We are a passionate farm family that only needs to break down the biggest barrier to our mission; OWNING LAND."
You Can Help!
The Jzars are just $14,000 from pre-qualifying for a bank loan to purchase farm land. The sooner we sell tables for Urban Soul on the Farm, the sooner the Jzars can move forward with the due diligence process.
This multi-course dinner is prepared family style
Presented By:
CHEFS
A special thank you to Chef Naomi Knox for organizing this event.
Chef Michael Bowling
Chef Nate Turner
Chef Naomi Knox
Chef Ebony Warfield
Chef Sean Warfield
Chef Corey Jones
Chef Chayil Johnson
Chef Terrell Anistead
Chef Quientina Steward
Chef Jazmine Davis
MIXOLOGISTS
Justin Hazelton
Amanda Britton
The Table is Set.
Come Join Us on The Farm.