Buy Tickets
Buy Tickets For Carolina Jubilee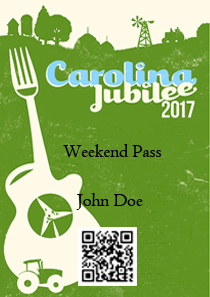 Click on "Add to Cart" next to the items you want to purchase.
Once you have selected all of the items you want, click on "Cart" next to any of them.  You can change the quantities there.  If you are purchasing a t-shirt, you will be asked your size for each t-shirt you are pre-ordering.  If you are a runner, you will be asked additional information for each runner.
Buy Tickets For Carolina Jubilee

Once you complete your purchase, you will receive an email with a link to download the digital tickets. Check your "junk folder".  The email will be from zack@carolinafarmtrust.org.  You do not need to print your ticket.  You can show the ticket on your phone or other device at the entrance, such as the example ticket photo to the right.  Digital ticketing allows you to be considerate of the environment.
 Buy Tickets For Carolina Jubilee
Child Ticket (under 15)
Please add 1 ticket per child attending the event. Child must be accompanied by an adult
$0
One Day (Sept. 29th)
Admission for September 29th
$35 
One Day (Sept. 30th)
Admission for September 30th
$35
Weekend Pass

This ticket provides admission for the same person for both days of the event.
$55
CAMPING TICKETS
(you must also purchase a Carolina Jubilee day or weekend ticket above in addition to these activities below to participate)
Camping
This ticket includes 2 nights of tent camping. RV camping is a separate fee which needs to be paid directly to VanHoy Farms. (Each person camping needs to purchase a camping ticket.)
$10  
Tshirt

Shirts will also be $20 at the event.
$20  
Run For Farms Tickets
(you must also purchase a Carolina Jubilee day or weekend ticket above in addition to these activities below to participate)
5k Run

Participate in the 5k run only
$7.50 
10k Run

Participate in the 10k run only
$12.50 
Kids Fun Run

Participate in the Kids fun run only
$2.50